Healthy Living
What to Expect at Your First Visit to a Dermatologist
Everything you need to know at your first dermatologist visit.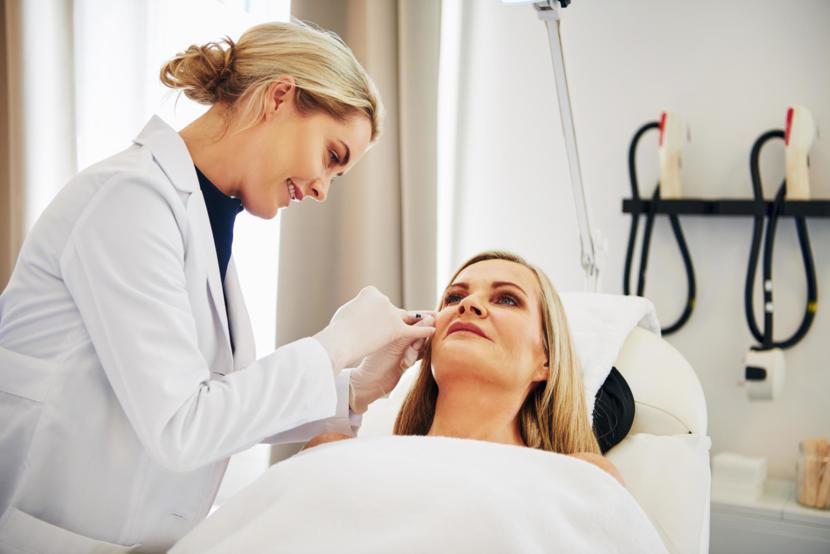 Dermatologists are experts when it comes to helping people of all ages, including newborns, maintain a healthy skin, hair, and nails. If it is your first time to visit a dermatologist, knowing what to expect can help you prepare better. 
It is important to have regular dermatological visits to help identify and stop serious dermatological problems before they get worse. A once a year dermatological checkup is recommended for everyone regardless of their health status. Regularly visiting your dermatologist is also important since skin cancer, which is common these days, can be difficult to recognize. 
Aside from detecting skin cancer, other common reasons why you should visit a dermatologist include:
Skin irritation
Skin rash, bumps, redness, and other changes
Warts
Skin lumps
Brittle nails
Nail discoloration
Unsightly moles
Aging skin
Skin pigmentation
Preparing for Your Visit
To help get the most out of your first dermatological visit, you need to be prepared by reviewing accurate information regarding your medical history, including your family history.
List all of your concerns or questions to the doctor and bring it with you on your scheduled appointment. Making a list before your visit can help make sure that you will not forget anything. It will also help you to have an efficient and thorough consultation with the dermatologist. 
Before your scheduled appointment, do not wear any makeup and make sure that your skin is clean to give your dermatologist an accurate assessment of your skin condition. 
What to Expect
The following are things that you can expect at your first dermatologist visit:
1. Questions about your medical history 
Visiting a dermatologist is like visiting other doctors or medical specialists. As a new patient, you will initially fill out some paperwork, which includes your medical history, medications, and medical conditions, among others. You should also be prepared to answer past and current skin issues and describe your symptoms in detail.
The doctor may also ask if you are currently taking or have had any type of medication, which includes prescription medicine, over-the-counter medications, dietary supplements, or herbal medications. 
2. Full-body skin check 
You may be asked to take off your clothes and put on a lightweight paper gown if it is your first time seeing a dermatologist or if you are coming in for a mole check. 
The doctor will check for any skin growth, unusual moles, and other irregularities from head to toe during your appointment. A special diagnostic tool called a dermatoscope may also be used by the doctor to better observe skin lesions. 
The dermatologist may also teach you how to perform a self-examination of your skin and inform you about the skin changes to watch out for.
3. You can expect to be treated with respect
Most dermatologists act professionally and treat their patients with respect. However, if you encounter a rude or demeaning dermatologist, who does not listen to your dermatological concerns, does not spend time checking your skin, or gives you an uncomfortable time listening to hard-sell skin care products, it may be time to find another dermatologist. 
Remember that visiting a dermatologist should be a comfortable and pleasant experience. 
4. Expect a prescription
The doctor may give you prescription medicine depending on your skin problem. Make sure to ask questions about the prescribed medications, their side effects, and how to manage these side effects. 
Also, ask how long it will take for your condition to improve and the things you should do if you do not see favorable results. 
5. Expect subsequent visits to your dermatologist
Finding the right treatment for your specific dermatologic problem may involve having a few tries to see which one is the most effective. Do not be discouraged if you are asked for a return checkup. 
In cases like acne, the dermatologist may want to periodically see you to check if the medications are working well or monitor your skin's overall health. Medications for acne also require prescription refills. However, it is important to remember that these medications do not cure acne, but control the breakouts instead. 
Other Concerns
Screening for skin cancer - This type of screening is usually in the first part of your visit to the dermatologist. The screening may last for approximately 10 minutes and includes a visual inspection of all skin areas and all possible forms of skin cancer. A mole check may include checking your private areas and your scalp. Female patients can also request for a female dermatologist to make them feel more confident and comfortable during their appointment.
Skin care routine assessment - Dermatologists also want to know your skin care routine. They will ask you questions on how you take care of your skin at night and in the morning. After listening to your answers, they will recommend the best skin care routine for you and whether you should continue with your existing regimen.
Assessment of goals in aging patients - As people age, dark spots, wrinkles, and fine lines tend to become more visible. It is important to be equipped when it comes to your skin's needs as you age. Dermatologists will be able to recommend skin care products, certain ingredients to look for, and the best solutions depending on your age, skin issues, and lifestyle habits. Having annual visits to the dermatologist is also recommended to effectively address anti-aging goals. 
Remove your nail polish - Aside from acne, skin cancer, and other skin conditions, dermatologists also need to see your nails because some types of skin cancer tend to form on nail beds. In some cases, skin rashes are caused by nail fungus. There are also moles that can be found under the nails, so make sure to remove your nail polish before your dermatologist appointment. 
Showcase skin concerns through photos - Pictures of your skin problems can be a great and helpful evidence that you and your dermatologist can document. If you have taken photos of your skin issues, make sure to bring them with you on your scheduled appointment. Sporadic skin conditions can be quite tricky to describe or identify, so having pictures during your appointment can help the dermatologist understand what you are trying to explain.