Gastroenterologist

Questions
Ovarian Cancer
"

Why did. My lil sister get Ovarian cancer and she did the genetic testing and it was negative my father died of prostpect cancer and my aunt died of ovarian cancer stage 4

"
My sister was 38 yrs old when diagnosed w Ovarian cancer she was stage 3 now thankGod she has nomore cancer ? But still getting cemo therapy she also got the spray that sprays on its in for the white cells I wish we knew how this happen I do know for sure that she use to use alot of baby powder back like in 2009 and 2010 we honestly think that was the cause of it.
Female | 39 years old
Medications: Cemo
Conditions: Ovarian cancer survivor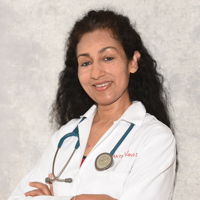 There are different types of ovarian cancers.....some test positive for genes we know about so far......then, there are cancers which are gene negative, which means that they can be inherited but modern science has not yet discovered which genetic mutations may be causing them.