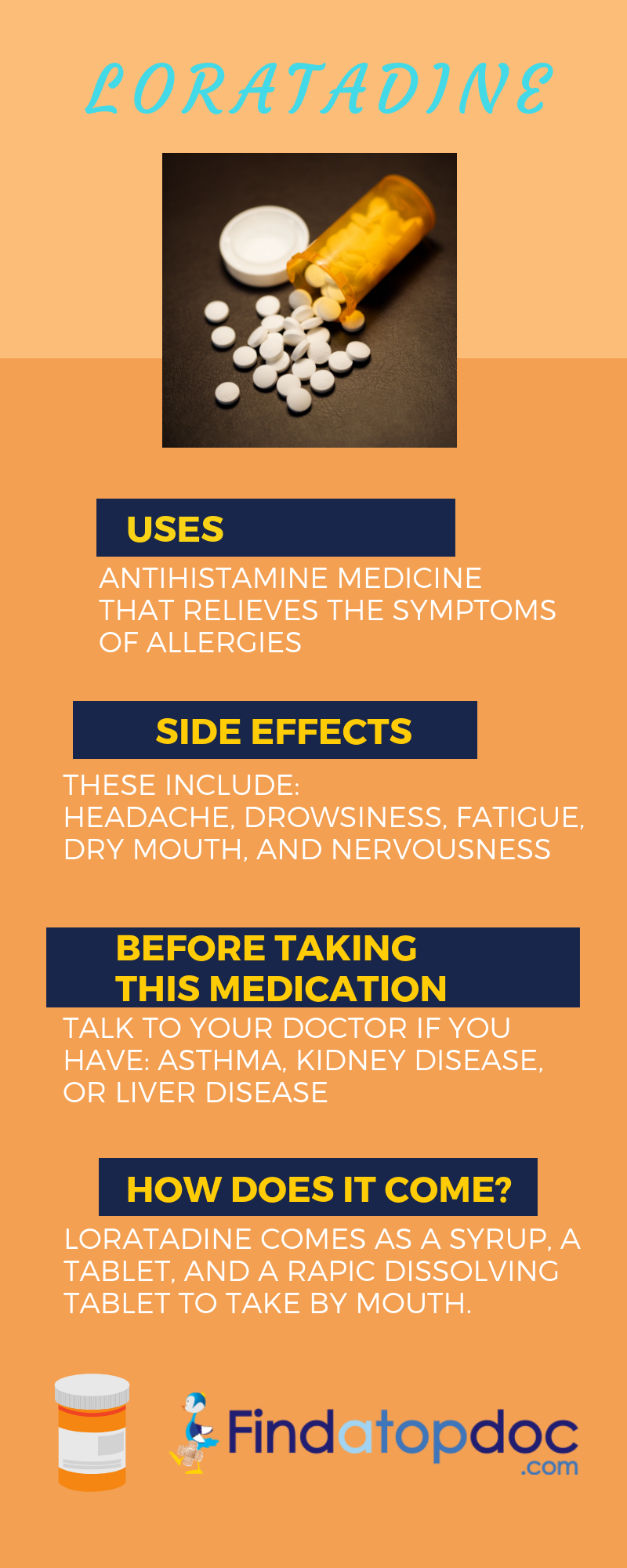 Loratadine is an antihistamine medicine that relieves the symptoms of allergies. It's used to treat hay fever, allergic conjunctivitis (red, itchy eyes), eczema and hives. It's also used for reactions to insect bites and stings and for certain food allergies. Loratadine is known as a non-drowsy antihistamine. It's much less likely to make you feel sleepy than some other antihistamines. Loratadine is available on prescription. You can also buy it from pharmacies and some supermarkets. It comes as tablets or as a liquid that you swallow. Read on to find out more.
Uses
This medication is an antihistamine that treats symptoms such as itching, runny nose, watery eyes, and sneezing from "hay fever" and other allergies. It is also used to relieve itching from hives. Loratadine does not prevent hives or treat a serious allergic reaction. So, in case your doctor has prescribed epinephrine to treat allergic reactions, always carry your epinephrine injector with you. Do not use loratadine in place of your epinephrine.
If you are self-treating with this medication, it is important to read the manufacturer's package instructions carefully so you know when to consult your doctor or pharmacist. Do not use this medication in children younger than 6 years unless specifically directed by the doctor. If you are using the chewable tablets, do not use in children younger than 2 years unless directed by your doctor.
Before taking this medicine
You should not take this medicine if you are allergic to loratadine or to desloratadine (Clarinex). Ask a doctor or pharmacist if it is safe for you to use this medicine if you have other medical conditions, such as:
asthma;
kidney disease; or
liver disease.
Loratadine is not expected to harm an unborn baby. But, make sure to tell your doctor if you are pregnant or plan to become pregnant. Loratadine can pass into breast milk and may harm a nursing baby. Tell your doctor if you are breast-feeding a baby. Some forms of loratadine may contain phenylalanine. Talk to your doctor before taking loratadine if you have phenylketonuria (PKU).
How should this medicine be used?
Loratadine comes as a syrup (liquid), a tablet, and a rapidly dissolving tablet to take by mouth. It is usually taken once a day with or without food. Follow the directions on the package label carefully, and ask your doctor or pharmacist to explain any part you do not understand. Take loratadine exactly as directed. Do not take more or less of it or take it more often than directed on the package label or recommended by your doctor. If you take more loratadine than directed, you may experience drowsiness.
If you are taking the rapidly disintegrating tablet, follow the package directions to remove the tablet from the blister package without breaking the tablet. Do not try to push the tablet through the foil. After you remove the tablet from the blister package, immediately place it on your tongue and close your mouth. The tablet will quickly dissolve and can be swallowed with or without water. Do not use loratadine to treat hives that are bruised or blistered, that are an unusual color, or that do not itch. Call your doctor if you have this type of hives.
What are the side effects of loratadine?
The most common adverse events with loratadine are:
headache,
drowsiness,
fatigue and
dry mouth.
Nervousness and difficulty sleeping have also been reported.
Remember, keep this and all other medicines out of the reach of children, never share your medicines with others, and use loratadine only for the indication prescribed. Always consult your healthcare provider to ensure the information displayed on this page applies to your personal circumstances.