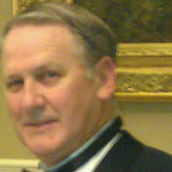 Dr. Alan James Clark M.D.
Ophthalmologist
133 Marion Oaks Blvd Ocala, FL 34473
Dr. Alan James Clark M.D.
Dr. Alan Clark is an ophthalmologist practicing in Ocala, FL. Dr. Clark specializes in eye and vision care. As an ophthalmologist, Dr. Clark can practice medicine as well as surgery. Opthalmologists can perform surgeries because they have their medical degrees along with at least eight years of additional training. Dr. Clark can diagnose and treat diseases, perform eye operations and prescribe eye glasses and contacts. Ophthalmologists can also specialize even further in a specific area of eye care.
Board Certification
Ophthalmology
American Board of Ophthalmology (ABO)
Professional Memberships
Member
American Academy of Ophthalmology
Residency
Albany Memorial Hospital
Areas of research
American History
Education and Training
Yale Medical School
MD | 1972
Yale University
BA | 1968
The Phillips Exeter Academy
na | 1964
Albany Medical Center
Residency | 1976
Maine Medical Center
Intern Medicine Pediatrcs | 1973