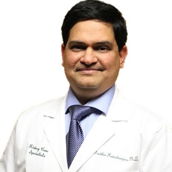 Madhu Kandarpa, MD, MRCP
Nephrologist (Kidney Specialist) | Nephrology
1362 East Stroop Road Kettering, Ohio 45429
Madhu Kandarpa, MD, MRCP
Dr. Madhu Kandarpa is a nephrologist practicing in Kettering, Ohio. Dr. Kandarpa specializes in the care and treatment of the kidneys. As a nephrologist, Dr. Kandarpa most typically treats conditions like kidney stones, chronic kidney disease, acute renal failure, polycystuc kidney disease, high blood pressure and more. Nephrologists are also experts on kidney transplantation and dialysis. They are usually referred to by primary care physicians for problems related to the kidneys, and while they can perform tests to diagnose kidney disorders, they do not perform surgeries.
Board Certification
Internal Medicine
American Board of Internal Medicine (ABIM)
Nephrology
Hospital Affilliations
Kettering Health Network
Areas of expertise and specialization
Residency
Jefferson Health System
Professional Society Memberships
American Society of Nephrology
What do you attribute your success to?
Hard work and passion for the industry.
Hobbies / Sports
Golfing, Cycling, Traveling