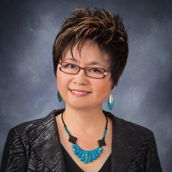 Lynn Ge-Zerbe, MD, MPH
1759 S. Millennium Way Meridian, Idaho 83642
Lynn Ge-Zerbe, MD, MPH
Dr. Lynn Ge-Zerbe is an endocrinologist practicing in Meridian, ID. Dr. Ge-Zerbe specializes in the medical treatment of adults. Endocrinologists establish long-term relationships with their patients and incorporate disease prevention and mental health care into their practice. Dr. Ge-Zerbe opened her own practice which offers patients care with the restrictions from insurance. She is able to fully listen to her patients, examine them carefully, and educate them to understand their medicines.
Board Certification
American Board of Internal Medicine
Endocrinology, Diabetes & Metabolism (Internal Medicine)
Hospital Affilliations
Vanderbilt University Medical Center ( Nashville, TN )
Lehigh Valley Hospital
Howard University Hospital
St. Alphonosus Boise Hospital
St. Luke's Boise and Meridian
Areas of expertise and specialization
Diabetes
Endocrinology
Pituitary and adrenal Disease
Thyroid Diseases
Faculty Titles & Positions
Guest Lecturing
-
Awards
Leading Physician of the World
2014
Endocrine Fellow Travel Award
Endocrine Society
2004
Intramural Research Fellowship Award
NIH
1993
Full Scholarship Award
University of Pittsburgh
1988
Scholarship Award
Peking Union Medical College
1979
Professional Memberships
Member
American Thyroid Association
Member
Idaho Medical Association
Member
North Carolina Medical Society
Member
American Association of Clinical Endocrinologists
Member
Tennessee Medical Association
Member
Ethical Committees
Member
American College of Physicians
Expertise
Endocrinology, Thyroud Dieases, Diabetes, Pituitary and adrenal Disease
Treatments
Endocrinology and Internal Medicine
Professional Society Memberships
ACP, AACE, ATA,
What do you attribute your success to?
Hardwork, Continued Education, Dedication to Patients
Hobbies / Sports
Travel, Painting, Reading, craft
Favorite professional publications
AACE Journal
Education and Training
University of Pittsburgh
MPH | 1990
Peking University/Peking Union Medical College
MD | 1987