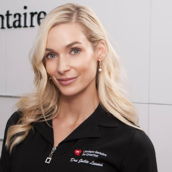 Dre Julie Lessard, DMD
Dentist
21 Boulevard René-Lévesque E Ville de Québec, Québec G1R 2A9
Dre Julie Lessard, DMD
Dr. Dre Julie Lessard is a Dentist practicing in Ville de Québec, Québec. Dr. Lessard specializes in preventing, diagnosing, and treating diseases and conditions associated with the mouth and overall dental health. Dentists are trained to carry out such treatment as professional cleaning, restorative, prosthodontic, and endodontic procedures, and performing examinations, among many others.
Areas of expertise and specialization
General Dentist
Implants
Esthetic, full mouth rehabilitation
Awards
Recipient of the Excellence in Implantology Award from the American Association of Oral and Maxillofacial Surgeons
Expertise
General Dentist, Implants
Professional Society Memberships
Ordre des dentistes du Québec, L'Association Dentaire Canadienne, Association des chirurgiens dentistes du Québec
What do you attribute your success to?
Her mission to take care of people, her love of people, and treating patients like family.
Hobbies / Sports
Spending Time With Children, Family, Working Out, Modeling