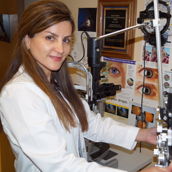 Nafiseh Hashemi, MD
Ophthalmologist | Ophthalmic Plastic and Reconstructive Surgery
5353 Balboa blvd. Encino, CA 91316
Nafiseh Hashemi, MD
Dr. Nafiseh Hashemi is an ophthalmologist practicing in Encino, CA. Dr. Hashemi specializes in eye and vision care. As an ophthalmologist, Dr. Hashemi can practice medicine as well as surgery. Opthalmologists can perform surgeries because they have their medical degrees along with at least eight years of additional training. Dr. Hashemi can diagnose and treat diseases, perform eye operations and prescribe eye glasses and contacts. Ophthalmologists can also specialize even further in a specific area of eye care.
Board Certification
American Board of Ophthalmology
Hospital Affilliations
Olympia Medical Center ( Los Angeles, CA )
West Hills Hospital & Medical Center ( West Hills, CA )
Valley Presbyterian Hospital ( Van Nuys, CA )
Areas of expertise and specialization
Neuro Ophthalmology
Glaucoma treatment
Cataract surgery
Professional Memberships
Member
American Academy of Ophthalmology
Member
North American Neuro-Ophthalmology Society
Member
American Society of Cataract and Refractive Surgery
Expertise
Neuro Ophthalmology
Treatments
Cataract surgery, Glaucoma treatment, optic nerve disease
Professional Society Memberships
North American Neuro-Ophthalmology Society, American Academy of Ophthalmology
Articles and Publications
Peer Reviewed Journal Articles
1. Malaria retinopathy and cerebellitis in a 9 year-old boy in the United States. Hashemi N, Callon LM, Kumar KS. J AAPOS. 2015 Feb; 19(1):87-91.
2.Transarterial Onyx embolization of an orbital solitary tumor. Nafiseh Hashemi, Jeanie Di Ling, Mirwat S. Sami, Andrew G. Lee, Patricia Chevez-barios. J ocul oncol pathol. 2015;1:98-102
Visual Hallucination (Charles Bonnet Syndrome) associated with Neurosarcoidosis. Zhang J, Waisberen E, Hashemi N, Lee AG. Middle East Afr J Ophthalmol. 2013 Oct-Dec; 20(4):369-71
 
4. Neuroimaging in ophthalmology. Kim JD, Hashemi N, Gelman R, Lee AG. Saudi J Ophthalmol. 2012 Oct; 26(4):401-7. doi: 10.1016/j.sjopt. 2012.07.001.


5. Late-onset Leber hereditary optic neuropathy.
Pfeiffer ML, Hashemi N, Foroozan R, Lee AG.
Clin Experiment Ophthalmol. 2013 Sep-Oct; 41(7): 690-3. doi: 10.1111/ ceo.12091.
PMID: 23433437
 
6. Radiographic evidence for denervation atrophy of extraocular muscles due to chronic intracavernous compressive third nerve palsy.Hashemi N, Pfeiffer ML, Foroozan R, Lee AG.
Can J Ophthalmol. 2013 Feb; 48(1):4-6.
PMID: 2341931
 
7. Bilateral Progressive Vision Loss in Noninfectious HIV Retinopathy without Infectious Retinitis.
Zhang J, Hashemi N, Lee AG.
J Ophthalmic Vis Res. 2012 Jul;7(3):268-70.
PMID: 23264871
8. Spontaneous Resolution of Optic Perineuritis.Tung C, Hashemi N, Lee AG.
J Neuro-Ophthalmol. 2013 Mar; 33(1):93-95.
PMID: 23247562
9. Complications of idiopathic intracranial hypertension.Yang L, Hashemi N, Lee AG.
Can J Ophthalmol. 2012 Dec; 47(6):53-5.
PMID: 23217520
10. Visual hallucinations: a review for ophthalmologistsHashemi N, Scranton RA, Hashemi M, Lee AG. Expert Review of
Ophthalmology. 2012 Oct; 7(5):471-479.
11. Magnetic Resonance Imaging in Acute Unilateral Optic Neuropathies in Adults. Ali S, Hashemi N, Pau D, Haykal H, Lee AG. Neuro- Ophthalmology. 2012 Oct; 36:180-185

12. A Pox upon Your House.
Hashemi N, Zhang J, Volpi J, Lee AG, Gordon LK.
Surv Ophthalmol. 2012 Nov 8. doi:pii: S0039-6257(12)00105-1. 10.1016/ j.survophthal.2012.05.005.
PMID: 23141433

13. Throat pain as a presenting symptom of giant cell arteritis.Ling JD, Hashemi N, Lee AG.
J Neuroophthalmol. 2012 Dec; 32(4):384.
PMID: 23041789
 
14. Visual hallucinations (Charles Bonnet syndrome) as the presenting sign of pituitary adenoma.
Hashemi N, Zhang J, Gelman R, Lee AG.
Can J Ophthalmol. 2012 Jun; 47(3):5-6.
PMID: 22687320
15. Leber hereditary optic neuropathy mimicking thyroid-related optic neuropathy.
Hashemi N, Yalamanchili SS, Zhang J, Lee AG.
J Neuroophthalmol. 2012 Mar; 32(1):95-6.
PMID: 22330857
16. Double vision and ptosis.
Hashemi N, Lee AG.
ATPO Viewpoints Magazine/spring 2012; 17-18

17. Bitemporal hemianopia.
Gelman R, Hashemi N, Lee AG.
ATPO Viewpoints Magazine/spring 2012; 15-16

18. Nonarteritic optic neuropathy in a young patient.Zhang J, Hashemi N, Lee AG.
ATPO Viewpoints Magazine/spring 2012; 19-20
 
19. Sub-tenon atracurium injection in rabbit eyes;a histopathologic study.
Hashemi N, Shomali S, Heyrani-Moghaddam H, Amini S, Izadi S.
J Ophthalmic Vis Res. 2009 Jan; 4(1):35-9. PMID: 23056672
20. Comparison of the effect of amniotic membrane suspension and autologous serum on alkaline corneal epithelial wound healing in the rabbit model. Shahriari HA, Tokhmehchi F, Reza M, Hashemi N.
Cornea. 2008 Dec; 27(10):1148-50. PMID: 19034130
 
21. Injection of Mitomycin-C in nasolacrimal duct for the treatment of partial nasolacrimal duct obstruction.
Hashemi N, Zanjani H, Heshmatipour B.
Bina Journal of Ophthalmology. 2005 Mar; 10(2): 221-225.
BOOK:
 
Nafiseh Hashemi, Andrew Lee. Chapter of Neuro-Ophthalmic complications of cataract surgery, Dennis P. Han "Cataract Surgery and Retinal Disease: Optimizing Visual Outcome", published by Bryn Mawr Communications LLC, 2013
 
 
What do you attribute your success to?
I am a goal oriented person (I make a goal and move toward it with positive attitude).
I work hard and never give up, learn from the past, and always look forward to the bigger achievement.
I use every opportunity I get to improve myself as a physician.
 
 
Areas of research
Migraine and the eye
Philanthropic Initiatives
During her years teaching and working in Zahedan, Iran , a impoverished town in the eastern border of Iran, Dr. Hashemi would provide free healthcare to the needy. She would collaberate with the United Nations to treat Afghani refugees.
Teaching and speaking
Dr. Hashemi has an educational live TV program in a Persian channel which is broadcasted in and outside of the U.S. This weekly TV show is serving the Persian community in Farsi. She is teaching about eye diseases in understandable language. The audience may call in the second half of the show to get medical advice about their eye disease.
Dr. Hashemi used to teach ophthalmology residents and medical students between 2004-2009 before immigrating to the United States. During her second ophthalmology residency in the University of Texas at Houston, she takes great satisfaction out of teaching medical students as well as using her experience to help the other ophthalmology residents in complicated cases.
Poster Presentation

1. Hashemi N, Billah S, Alava I, Conderman CP, Supsupin EP, Asdesina OO. Nothing to spit at. Poster 1, NANOS Annual Meeting, Tuscan, AZ, February 29th, 2016
2. Hashemi N, Lee AG, Coburn A, Chevez-Barrios, Selouan R. Amaurosis fugax due to carotid body tumor. Poster 165, NANOS Annual Meeting, San Juan, Puerto Rico, March 4, 2014.
3. Hashemi N, Tokhmechi M. (2007, December). Healing of Corneal Wound with Aminiotic Membrane Solution in Rabbit. Poster presented at: 17th International congress of ophthalmology; Tehran, Iran
4. Hashemi N, Shomali S. (2006, December). The Evaluation of Pathologic Effect of Atracurium in Subtenon Injection for Ophthalmic Regional Anesthesia in Rabbit. Poster presented at: 16th International congress of ophthalmology; Tehran, Iran
Hobbies / Sports
Hiking, Swimming
Favorite professional publications
Journal of Neuro-ophthalmology
Education and Training
| | |
| --- | --- |
| | MD at Iran University of Medical Sciences |
University of Houston
Ophthalmology Residency | 2016
University of Tennessee at Knoxville
Surgery internship | 2013
Houston Methodist Hospital
Neuro-Ophthalmology fellowship | 2012