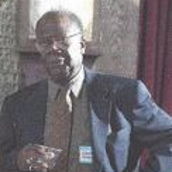 Claudewell S. Thomas, MD, MPH, DLFAPA
Psychiatrist | Psychiatry | Forensic Psychiatry
,
Claudewell S. Thomas, MD, MPH, DLFAPA
Dr. Claudewell Thomas is a public health/community psychiatrist living in Rancho Palos Verdes, CA. Dr. Thomas is a medical doctor who specialized in the care of mental health patients.He is an academic psychiatrist with a long history of administration and teaching. As a psychiatrist, Dr. Thomas has diagnosed and treated mental illnesses through a variety of methods including medications, psychotherapy or talk therapy, psychosocial interventions and more, depending on each individual case. Different medications that a psychiatrist might prescribe include antidepressants, antipsychotic medications, mood stabilizers, stimulants, sedatives and hypnotics. Dr. Thomas has treated OCD,depression,bipolar illness ,schizophrenia etc.No longer in clinical practice,he still uses group dynamic skills in organizational consultation.He has also been a member of the L.A.Superior Court Panel of Psychiatrists and Psychologists utilizing forensic skills.He is the founder of the blog https://theoctogenarians.com wherein a group of older scholars and thinkers engage in dialogue about the fate of mankind and the leadership role of America.There is a major effort to engage the millenial generation in dialogue.
Board Certification
American Board of Psychiatry and Neurology
Areas of expertise and specialization
Social psychiatry,forensic psychiatry,cross cultural psychiatry
Faculty Titles & Positions
PROF.EMERITUS PSYCHIATRY
GEFFEN SCHOOL OF MEDICINE UCLA
1984 - 2016
FORMER CHAIR PSYCHIATRY
UMDNJ (NJMS)
1975 - 1984
INSTR-ASSOC PROF PSYCH,PUBLIC HEALTH &SOCIOLOGY
YALE
1964 - 1970
DIR MENTAL HEALTH SERVICES DIV.
NIMH
1970 - 1973
Awards
DISTINGUISHED ALUMNUS
YALE PSYCHIATRY
1997
HONORARY ALUMNUS
YALE
2011
Professional Memberships
Member
A
Member
A
Member
A
Residency
V a New York Harbor Healthcare System Brooklyn Campus
Charities and Philanthropic Endeavors
j.thomas stroke shield foundation
Expertise
Social Psychiatry, Public Health Psychiatry, Forensic Health Psychiatry
Professional Society Memberships
APA,APHA ,SigmaXi, ACP,NYAS,NYAM ,ASA
Articles and Publications
Published 50-100 Publications
What do you attribute your success to?
His parents, excellent teachers throughout school, his 2 years of active duty with the air force, and his bright supportive wife and children.
Areas of research
SOCIAL INTERACTION AND COMMUNITY
Hobbies / Sports
Playing Handball, Tennis, King's Crown Rifle Activity
Favorite professional publications
The Journal of Nervous and Mental Disease
Education and Training
STATE UNIVERSITY OF N.Y.DOWNSTATE MEDICAL CENTER
M.D. | 1956
YALE UNIVERSITY SCHOOL OF PUBLIC HEALTH
M.P.H | 1964
STE U OF.N.Y.DOWNSTATE MEDICAL CENTER
M.D. | 1956
Provider Details
Gender
Languages
English
English
Spanish
German