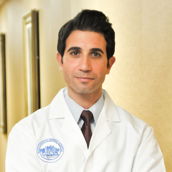 Dr. Dimitrios Christoforou M.D.
Orthopaedic Surgeon | Orthopedist | Hand Surgery
55 Fruit St Boston, MA 02114
Dr. Dimitrios Christoforou M.D.
Dr. Dimitrios Christoforou is an orthopaedic surgeon practicing in Boston, MA. Dr. Christoforou specializes in the diagnosis, treatment and rehabilitation of injuries, diseases and disorders of the bodys musculoskeletal system. As an orthopaedic surgeon, Dr. Christoforou tends to bones, ligaments, muscles, joints, nerves and tendons. Orthopaedic surgeons can specialize in certain areas like the hand, spine, hip, foot and ankle, shoulder and elbow or the knee.