Periodontist

Questions
Braces, Oral
"

At what age should braces be worn to get rid of the gap between the frontal teeth?

"
My daughter is 13 years old and has a gap in between her frontal teeth. What is the right age to get her braces to close this gap?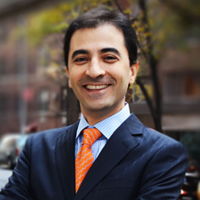 You should see an orthodontist to correctly tell you when is the best time to start ortho.
You should definitely take her to an orthodontist. More than happy to recommend a great orthodontist in your area.
Please email us at neal@bellevueperio.com with your area and we can connect you with an orthodontist near you.
The reason to see an Orthodontist ASAP is that your daughter is still growing at this time and the orthodontist can take real advantage of that while moving her teeth.
Happy 2018!
Neal Raval
There is no right age to do this. Only the orthodontist can answer this question after he sees the patient. The reason is because the gap in the front teeth may look the same on everybody but there might be different reasons for every person that has one. This means that the treatment may be different for every person.

If you were to see the orthodontist and he felt that it was too early to start treatment, he would tell you when to come back. On the other hand if you go later than you should, while it could still be done, it may get more complicated to do.
You should get a consultation with the orthodontist.